Mother Dog Protects Her Puppies By Making A Home In A Snowdrift
What a strong mom 💪
As ice and snow blanketed northwestern Minnesota, a stray dog searched for somewhere safe to hide her six puppies.
The brave mom had stopped producing milk, and her 3-week-old babies were so hungry and cold. When she couldn't find shelter, the dog dug a den in the snow and wrapped her body around her puppies, doing the best she could to protect her little family while trying to survive herself.
A concerned family spotted the dog and her puppies huddled in a wooded area by a lake and drove them to Red Lake Rosie's Rescue shelter.
Shelter staffers couldn't believe the mama dog's amazing story — naming her Snowbelle. "We have no idea how Snowbelle and her puppies survived," the shelter wrote on Facebook.
And it didn't take long to nurse the freezing dogs back to health: "After a few days of warm shelter and good food, Snowbelle started producing lots of milk for her babies," the shelter wrote.
Snowbelle's puppies have grown quickly, and all but two have been adopted — but Snowbelle still has not found a forever home.
The brave mama, now known as Asha, is living at Pet Projects, a rescue in Nerstrand, Minnesota. It was clear that the young dog had not known a loving home in quite some time — if ever.
"We don't really know anything about her past," Nancy Bruley, founder of Pet Projects, told The Dodo. "She was very, very thin and in tough shape, so she had been scrounging on her own for a while."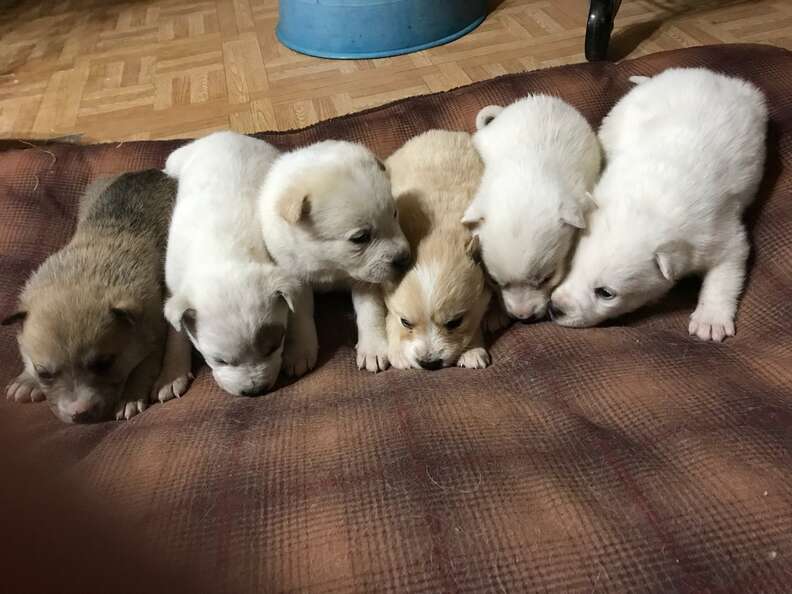 When Asha first came to the rescue, she didn't know how to walk on a leash but she was always a good girl inside the house. "The mom was extremely shy when she came — not aggressive in any way — but timid," Bruley said. "Kind of fearful if you went towards her, her head would go down. You could tell she was apprehensive of people."
In just six weeks, Asha has completely transformed, gaining 6 pounds and feeling so much better.
"She's really blossomed," Bruley said. "She walks well on the leash now and is much more confident. She jumps and puts her paws up on me. She's definitely more outgoing than when she came in."
While mother dogs are typically harder to place than their babies, Bruley is hopeful that Asha will find someone to give her the home she so deserves.
After all, a mother's love is unconditional, and Asha is no exception.