"She shocked us all."
When Blondie entered Maricopa County Animal Care and Control in late October, the little hairless creature barely looked like a dog at all.
Frail and completely covered in scabs, the Chihuahua mix's skin gave her a mummified look. She was labeled "at-risk" for euthanasia, but shelter volunteers refused to give up on her. Instead, they posted a video of Blondie online along with a plea for help.
"When we saw the video of her at the county shelter we literally gasped," Caitlin Beall, cofounder of Sky Sanctuary Rescue, told The Dodo. "She looked awful shaking in her kennel and so very afraid. We knew she needed out and fast."
Beall and her cofounder, Elli Smith, rushed to the shelter, excited to see the little dog who had clearly been through so much. "We could not wait to meet her. The kennel staff walked her out to us and her skin was even worse than we were expecting," Beall said. "I don't even know how to put into words how bad her skin condition was."
They immediately drove her to the vet for an examination and discussed names for her on the way. They settled on Blondie — hopeful that one day the hairless dog would have a coat of beautiful blonde fur.
The vet discovered that Blondie had a skin condition called demodex mange, along with a number of other issues. Once Blondie was released from the hospital, she went home with Beall.
Blondie quickly warmed up to Beall's other dogs but was extremely cautious around people. Beall worried that the fearful dog would never learn to trust after what she had been through.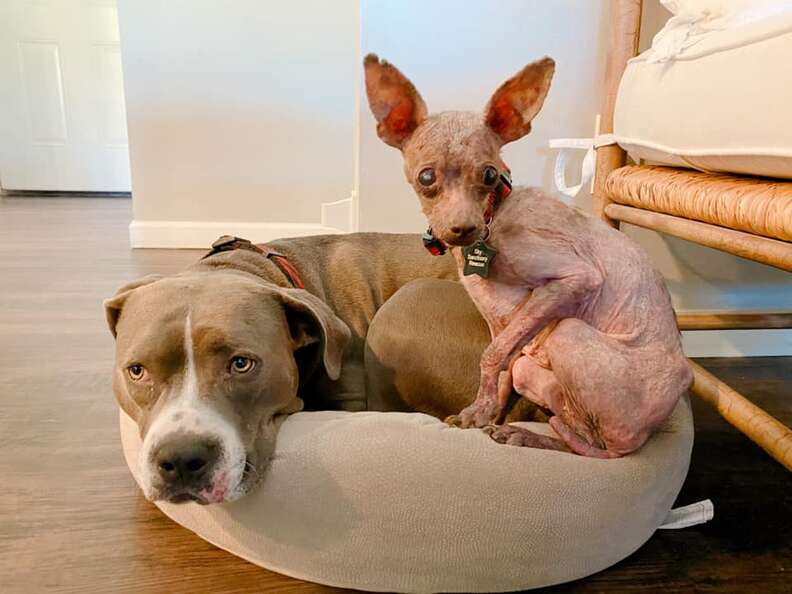 Beall was giving Blondie her nightly bath when the first silver lining appeared.
"As I removed the towel, I expected her to run from me back to her safe spot like she typically would," Beall said. "That night was different — she took a few steps away from me but then turned around and climbed back on to my lap."
"I was now her safe spot," Beall added. "There were a lot of happy tears that night."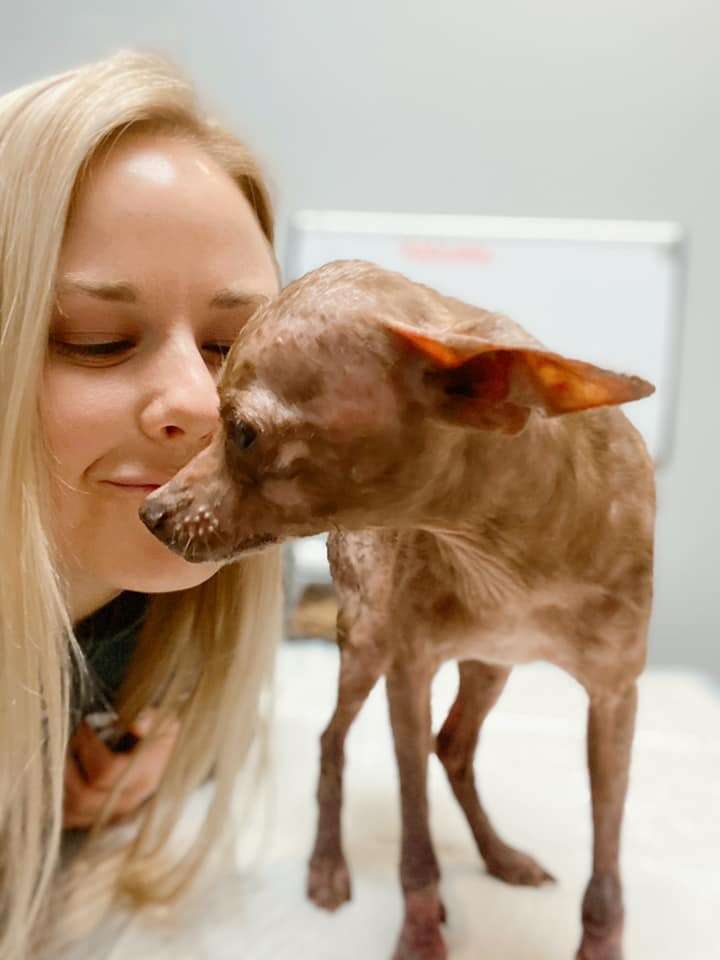 Months passed and Blondie's skin slowly began to heal, along with her heart. As the first hairs started to come in, Beall realized that Blondie wasn't blonde at all — she was a brunette. And the color looks great on her.
"Her little body has fought like hell," Beall said. "She shocked us all when her gorgeous fur started to grow in."
Now, Blondie's future is looking bright. She's started to run and play for the first time ever, eager to engage with her foster siblings. "Prior to this, Blondie had one speed: sloth speed," Beall said. "She would slowly tiptoe everywhere she went."
The little dog has also gotten her appetite back — especially for bones. Every time she wags her tail wildly, her foster mom couldn't be more proud to see her transformation into a loving, excitable dog.
Whether or not Blondie will stay with Beall is still undecided, but Beall is making sure that the choice will be what's best for Blondie.
"I think that answer really isn't up to me — it's up to Blondie," Beall said. "I am so proud of how far she has come. I cannot wait to see what the future has to hold for our gorgeous girl."