Elderly Circus Bear Who Lived in a Tiny Cage for 20 Years is Rescued, Now Experiences Joy in a Sanctuary
An elderly bear born into captivity and dumped at a car service station after many years in the circus is now experiencing joy for the first time at a bear sanctuary in Ukraine.
Chada, who was born on Christmas Eve 25 years ago, was brought to the attention of animal rescuers in Ukraine in 2018 when activists discovered her in a tiny cage at a car service station. Zoologist Maryna Shkvyria, 41, who founded the Save Wild foundation with her husband and runs White Rock Bear Shelter near Kyiv, Ukraine, stepped in.
"Unfortunately, [Chada] was in our Ukrainian National Circus, and she was exploited for many years," Ms. Shkvyria told The Epoch Times, adding that the bear's former owners "just left her" at the service station when they no longer wanted her. "For several years, employees of this car service … fed her, and tried to provide some conditions," she said.
However, they didn't understand anything about bears.
Chada is an endangered Himalayan subspecies of brown bear, one of only several hundred left in the world. Many are still in circuses or held in private captivity and can live to around the age of 30.
After learning of the captive elderly bear, Ms. Shkvyria and her team knew they had to act quickly. By 2019, they had orchestrated a rescue plan. Chada, who was overweight and nearly blind, was transferred to a transport crate. She was "very aggressive" while trying to defend her space but was safely monitored by experts and veterinarians during the drive to her new sanctuary home; a two-hectare (4.92-acre) plot housing four bears and two wolves.
"It's a beautiful day, a nervous day, of course, when we open the box and, for the first time, the bear can go out and see grass and water, trees, the bush," Ms. Shkvyria said. "Most bears, they are too scared to go out on the first day. … They are afraid of these new smells, new senses, bears in neighboring [enclosures].
"But Chada was another story, she had no doubt, she just went out in one second and searched all the enclosure, despite her problems with her eyes. She tried the pool, she tried every plant, grass, and fence. She even communicated very aggressively with bears through the fence in neighboring enclosures. She was completely brave! A little bit nervous, but she was satisfied, and we felt it."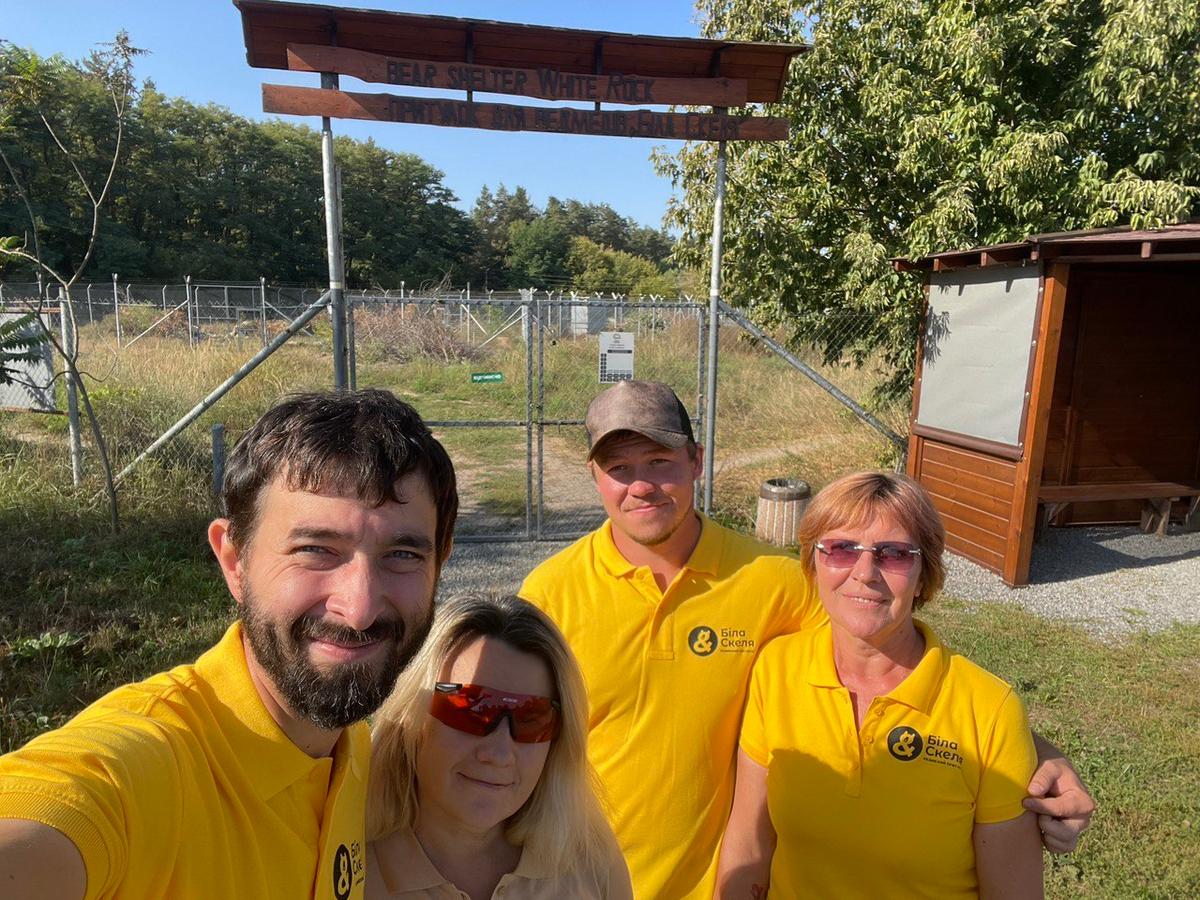 Chada's former keepers had fed her human food, including sugary treats, and, as a result, she suffered from rotten teeth and a damaged digestive system. After quarantine and veterinary checks, sanctuary staff developed a special diet for Chada—to help her body recover from decades of confinement—comprising saltwater fish, vegetables, fruits, nuts, and goat's cheese.
"She has a lot of different preferences, and she changes her mind very often," Ms. Shkvyria said. "So today, she likes strawberries. Tomorrow, she wants watermelon and doesn't like strawberries. The next day you need to add salmon, then she doesn't like salmon again! So you need to be very adaptive to provide good food for this bear and, at the same time, fit her diet."
Sanctuary staff have made several adaptations to Chada's enclosure to help her acclimatize including moving her to a space with a smaller pool, since she loves to splash, and teaching her to play with toys.
"The first pool we provided was very big and a little bit deep … a little bit dangerous for her," Ms. Shkvyria said. "She never had toys or something just for her entertainment, so she didn't understand for several weeks what to do with these items."
However, Chada is now given many interesting objects to play with. For example, a pumpkin with something delicious hidden inside, which she can pull apart to reveal her treat.
"She discovers something new every day," Ms. Shkvyria said.
For Chada's carers, it's been a pleasure to watch her. She has a really strong character and may be one of the strongest of all animals. They hope she will be able to live with them for many years to come.
While Chada does not like people, and the staff respect her space, she's learned to recognize the sound of the gates opening for veterinary visits and will walk herself to the right location. She cannot integrate with other bears though since she is so small but will communicate with her "neighbors" through the fence surrounding her enclosure and will even sniff or rub paws and noses with them.
"Our bears are about 270 to 300 kilograms (595-661 pounds), but Chada is only 100 kilograms (220 pounds) … so we cannot open the gate and release her to other bears. It will be really dangerous for her," Ms. Shkvyria said. "She doesn't understand how she's small; she shows that she's really the boss in this sanctuary."
The work of White Rock Bear Shelter was disrupted due to the war in February 2022–they relocated three of their seven resident bears to Germany, and the four remaining bears were evacuated for three months to a sanctuary in western Ukraine–but the shelter hopes to buy land and expand in the future.
After four years in her safe sanctuary home, Chada has become "very self-confident and much more calm," compared to when she first arrived. But rescuing an elderly bear is bittersweet, said Ms. Shkvyria, since their painful past cannot be undone.
White Rock Bear Shelter keeps followers updated on Chada and its other resident animals through Instagram.
Watch the video: