They were snuggling together for warmth.
A typical day at a bar in York, South Carolina, turned into anything but when people discovered two boxes of puppies left next to a dumpster. One of the boxes was labeled "Xmas," making the whole situation even more heartbreaking. It was freezing cold, and the puppies had been left outside overnight and wouldn't have survived much longer on their own. They were taken in by animal control — where, unfortunately, their fight for survival continued.
"They were going to be euthanized [the] same day for space," Chrissy Elder of Forgotten, Now Family Rescue told The Dodo. "We couldn't allow that to happen, so we took them in that day."
Once the puppies were safely in the care of Forgotten, Now Family Rescue, they were able to be checked over to make sure they were doing OK. They were underweight, but otherwise seemed to be in good health, and everyone who met them was struck by how thrilled they were to finally be with people who wanted to help them.
"They are the sweetest babies ever," Elder said. "So loving and have no idea humans failed them by throwing them away. They act like they want to be best friends with everyone they meet."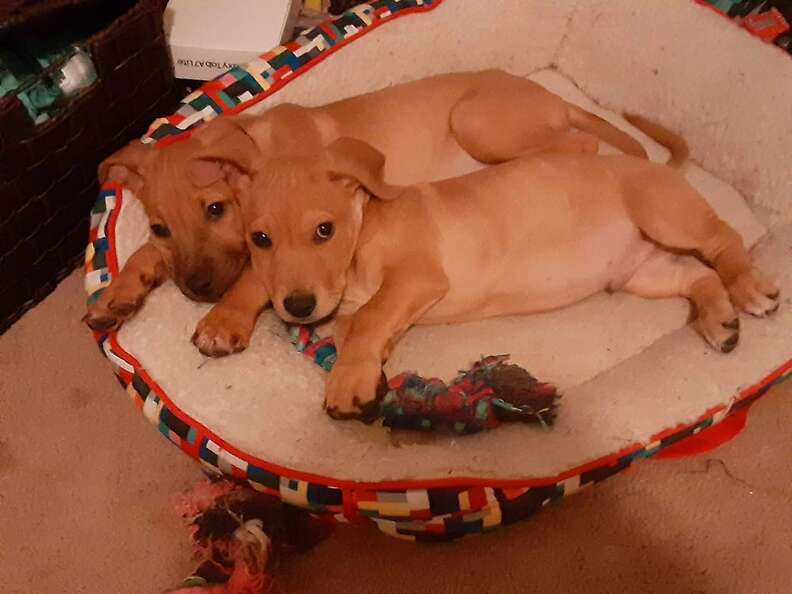 The rescue named the puppies Zinfandel, Malbec, Grigio, Merlot and Riesling. No one can understand how anyone could throw away puppies as cute as them. It's likely they were a surprise litter or something along those lines, highlighting the importance of spaying and neutering. They're now thriving and growing more playful every day, and their new friends at the rescue can't wait for them all to find loving families.
"They are doing amazing," Elder said. "It's crazy most of them are still available for adoption! They are incredible, so we sure hope they find forever homes soon."