A Canadian mining crew discovered a large collection of mammoth bones while working at a placer mine outside Dawson City, Yukon.
The team were working with an excavator at the Little Flake Mine around two weeks ago when they came across a tusk.
Further digging unearthed more and more bones, so the crew decided to pause what they were doing and continue looking for the ancient relics.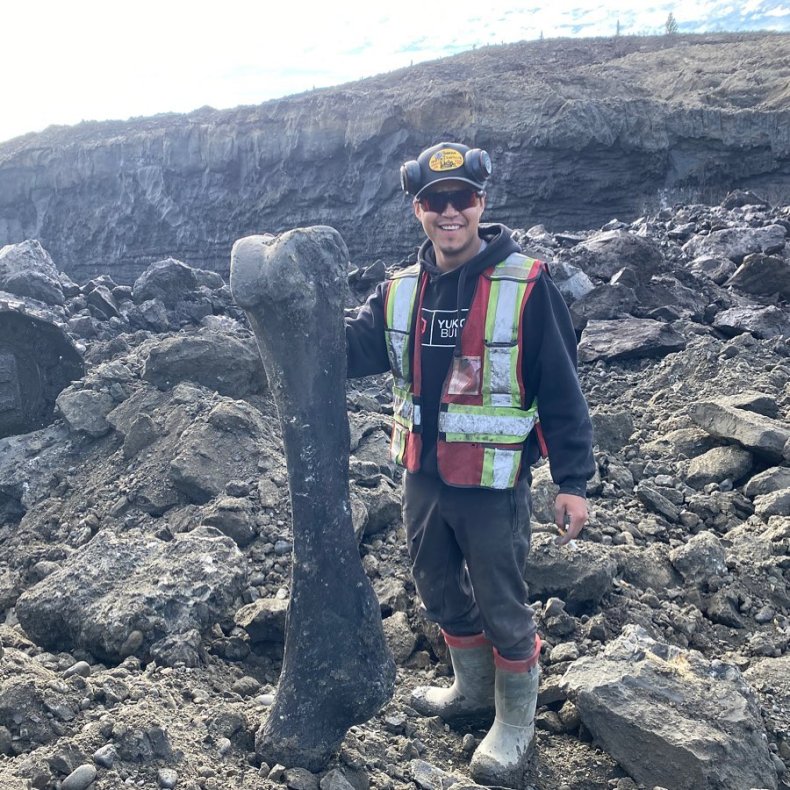 Trey Charlie, who works at the mine, said he and a co-worker were shocked at how big and heavy the mammoth tusk was.
He told Canada's CBC it was "probably one of the best days I've had working" and added: "Throughout the day I was picking bones. Ribs, teeth, all kinds of things."
Charlie also posted a photo of one particular bone, which appears to be almost as tall as he is, to his Instagram and Facebook pages.
The Yukon government is understood to have taken possession of the bones to study them, as the mine was legally required to report the find.
Placer mining is a mining process in which water is used to separate valuable minerals from the surrounding sediment.
It is not the first time mammoth remains have been found in Yukon. In 2010, miners at Hawk Mining Ltd. in the Klondike gold fields unearthed a complete mammoth skull more than a meter long.
It was discovered by a night-shift employee digging into mud with an excavator, who began to carefully dig around it.
Grant Zazula, a Yukon government paleontologist, told CBC at the time that woolly mammoth remains are found "all the time… but never a complete skull."
Mammoths are thought to have roamed northern sections of Canada 30,000 or 40,000 years ago, but were eventually wiped from the nation around 10,000 years ago due to a combination of environmental factors and hunting by humans, according to Canadian Geographic magazine.
Glen MacDonald, a professor of geography at UCLA, told the magazine in 2013: "It was formerly thought that they really adapted to the ice age. Now, what we're finding is that's not necessarily true, especially for northern populations in places such as the Yukon and Alaska."
Mammoth fossils are not exclusive to North America. Just last year, archaeologists found the bones of around 60 mammoths at an airport construction site near Mexico City.
The bones were found over a time period of around six months at a rate of about 10 mammoths per month.
Pedro Sánchez Nava, an archaeologist at Mexico's National Institute of Anthropology and History, told The Guardian: "There are too many, there are hundreds."