"Everywhere she goes, the red fish goes, too …"
This is Miley Marker — an adorable foster dog rescued from a busy highway in Missouri. On the day of her rescue, Miley cowered in fear just off the shoulder of the freeway until Donna Lochmann, chief life saving officer at Stray Rescue of St. Louis (SRSL), found her.
Within minutes of meeting Lochmann, the sick and timid dog melted in her rescuer's arms. Since she was a stray, Lochmann expected Miley to be defensive and wary of strangers — but it didn't take long for her to learn that the sweet girl was filled with love and gratitude.
Upon meeting, Miley immediately kissed Lochmann as many times as she could before they headed to the shelter. There, Miley began her healing journey.
The sweet girl continued spreading love to her caregivers in the days after her rescue. No matter the task at hand, Miley didn't miss a single opportunity to plant a wet kiss on her new best friends' faces.
SRSL's volunteers could tell that Miley was coming out of her shell the more comfortable and loved she felt at the shelter. But nothing prepared them for the adorable personality quirk that was yet to be revealed.
Not only was Miley a lovebug, but the docile pup was secretly very playful. She just needed a home where she felt comfortable enough to let her zoomies out.
Shortly after her rescue, Miley went into foster care. Her new mom, Rachel, welcomed Miley home with a brand-new toy, and the sweet girl — who'd never had a chance to play before — instantly lit up.
"I gave her a new red fish toy when we walked in the door that she immediately started carting around everywhere with her," Rachel wrote in a letter to SRSL, which they shared on Facebook. "Everywhere she goes, the red fish goes, too …"
From potty trips outside to bedtime, Miley refused to part ways with her beloved toy.
"Her very first night, she fell soundly asleep with the red fish clutched in her mouth and slept like that for a couple of hours," Rachel wrote.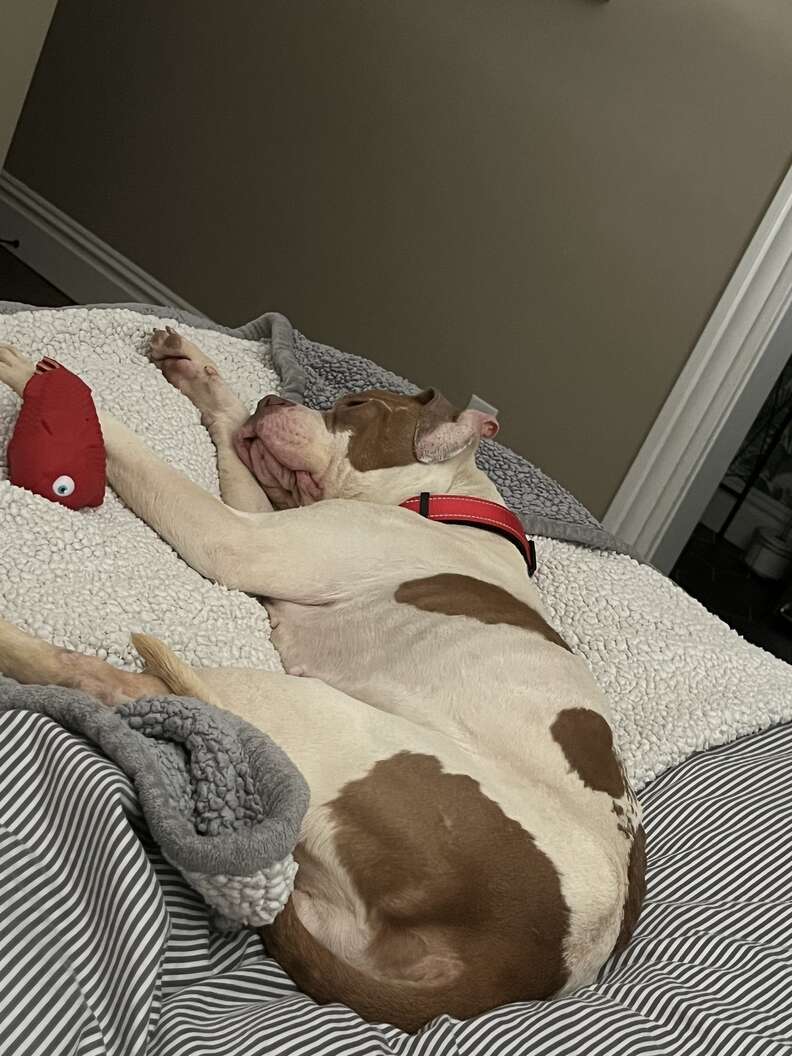 Now that she's in a cozy home full of love, Miley can be her most playful self. On the streets, she learned to be stoic and defensive for survival. Today, her guard is completely down.
Just as much as she loves her toy, Miley is obsessed with every member of her foster family. She'll never pass up an opportunity to play, but stealing kisses will always take the cake.
"[Miley] will suddenly wake up, jump into my lap at full speed and start licking my face incessantly," Rachel wrote. "It's as if she suddenly remembers how she was saved and wants to express how thankful she is."
As of now, Miley's still on the hunt for her forever home. But she's in no rush — she's enjoying her new life to the fullest, one toy-filled day at a time.