A dog in Chattanooga was tragically separated from her owner due to circumstances of hardship. She was found wandering the streets before she was brought to a shelter. Yet, thanks to the power of social media, Lilo the dog was reunited with her owner.
On January 20, the dog was found wandering loose in a local neighborhood with her leash still attached. She looked happy and healthy, but scared. The stranger who found her called McKamey Animal Center, where she was taken with the hope of remedying her dire situation.
On the dog, they found a heartbreaking note that, apparently, had been written by Lilo's owner. The note told of the owner's destitute situation and the reason Lilo was no longer with her. It read:
My name is Lilo. Please love me. My mom can't keep me and is homeless with 2 kids. She tried her best but can't get help. I cost too much for her. She really loves me and I'm a great dog and love to be loved on. Please don't abuse me.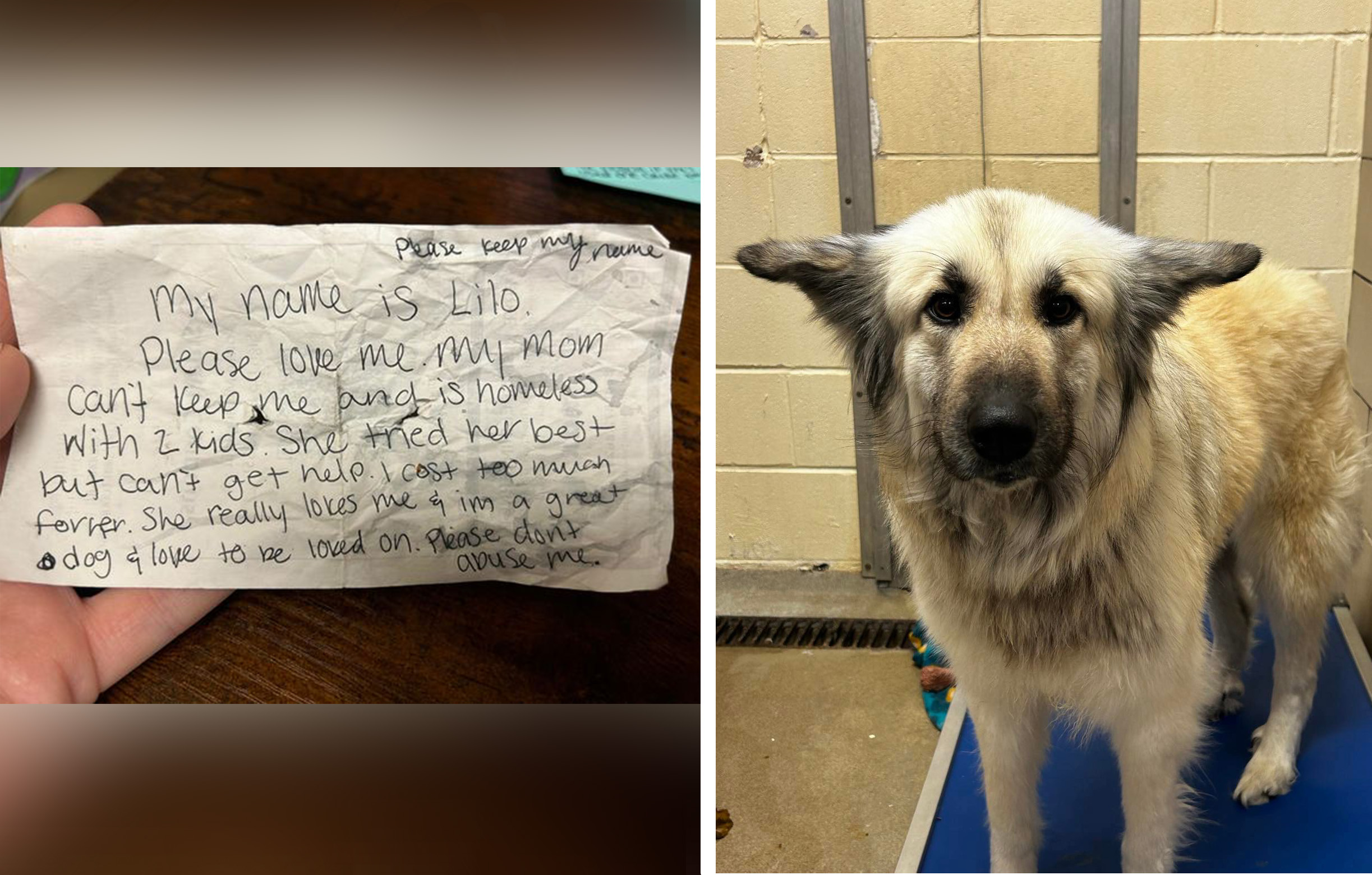 (Left) A note found on Lilo, written by her owner; (Right) Lilo in the animal center. (Courtesy of McKamey Animal Center)
The staff at McKamey Animal Center were saddened by the situation; they felt the abandonment was unnecessary, as they knew there were resources available that could have helped the owner keep her pet despite her difficult circumstances.
So, in a bid to reunite Lilo and her owner and give them the support necessary, they reached out to the world via social media.
"We're here to help and we want to see people and their pets stay together, no matter the circumstance," they captioned in a Facebook post on Jan. 24. "We offer a community pet food pantry for when times are tough …
"We want Chattanooga to be a community where pets are truly family, not just for the economically privileged, but for everyone."
In a plea to the owner, they added:
We are so sorry that you had to make the decision to leave [Lilo] behind. We know many folks are struggling to care for their pets right now. We know how hard it must be to give up an animal you so clearly loved because you can't provide the care she needs. We understand.
If you are reading this, we hope you will come forward to reclaim her. We will help you with whatever you need to care for her, to the best of our ability. Lilo definitely misses you, and we would like nothing more than to see her go back to the family she loves.
It turns out, however, the owner did not see the Facebook post. Yet someone she knows did—they contacted her and she, in turn, called McKamey Animal Center not long after.
"I was able to verify her identity and that she was in fact Lilo's owner," McKamey Animal Center staff told The Epoch Times. "To protect her identity and privacy, there's not much I can share right now about the backstory of the family."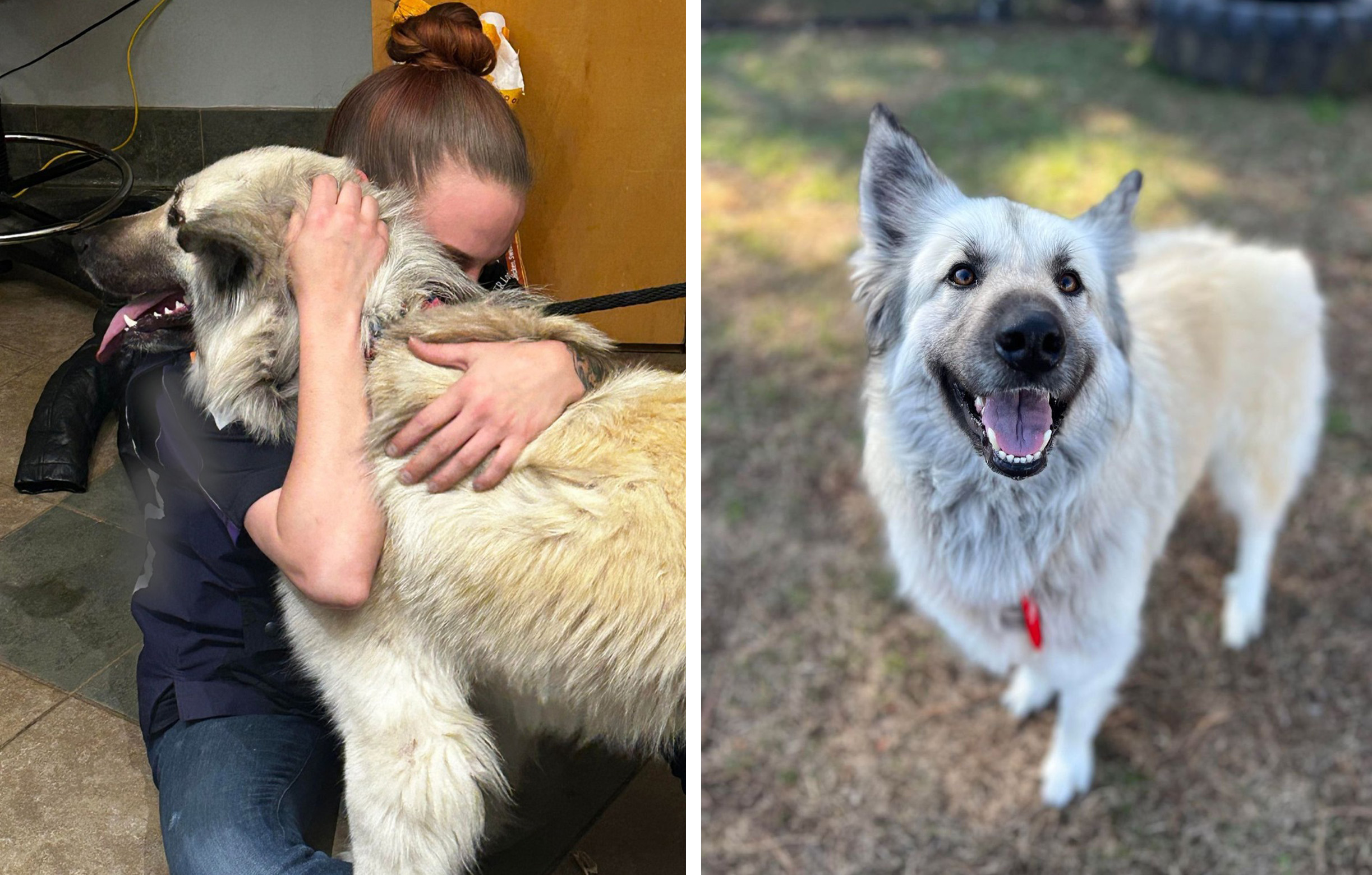 (Left) Lilo reunites with her owner; (Right) Lilo. (Courtesy of McKamey Animal Center)
They did, however, share a heartwarming update on Facebook on Jan 25. with a photo of Lilo and her owner's reunion.
"The staff involved with this case are absolutely thrilled that we were able to locate Lilo's mom," they told the newspaper. "During the reunion, there wasn't a dry eye in the room! Everyone has been blown away at the support we are receiving and ultimately, we are just grateful we could help."
In honor of Lilo and her owner, McKamey Animal Center set up a fund to accept donations to provide things like food, supplies, essential veterinary care, and more for those facing homelessness or financial hardship who can no longer take care of their pets. They hope to prevent family-pet separations in the future.
Meanwhile, they are working with local partner agencies and nonprofits in town to help the pair find a pet-friendly homeless shelter and set them up for success to overcome homelessness.
"Lilo will remain in our care until this happens," the shelter said.