Last month, a wild elephant and two of his friends were attacked by poachers. Wounded by poisoned arrows, they trudged across the African landscape to the one place that could help them: the David Sheldrick Wildlife Trust (DSWT).
Though the wild elephant had never been a resident at DSWT, he knew elephants who had. He had mated with two former orphans who were raised at DSWT's Ithumba Reintegration Centre, who now lead their own wild herd. In 2011, he fathered babies with them, whom DSWT named Mwende and Yetu.
And DSWT is certain he knew this group of humans meant help.
"We are sure that Mwende's father knew that if they returned to the stockades they would get the help and treatment they needed because this continuously happens with the injured bulls in the north; they all come to Ithumba when in need, understanding that there they can be helped," DWST wrote.
And while it might be surprising to imagine an elephant seeking out humans for help – especially when he had just been injured by people – it's not unbelievable.
Elephants have remarkable spatial reasoning abilities and are able to craft detailed mental maps that help them navigate their territory. Considering their intelligence and high sociability, it's possible that former orphans or elephants who have been treated by DSWT could have communicated that it was a place of safety.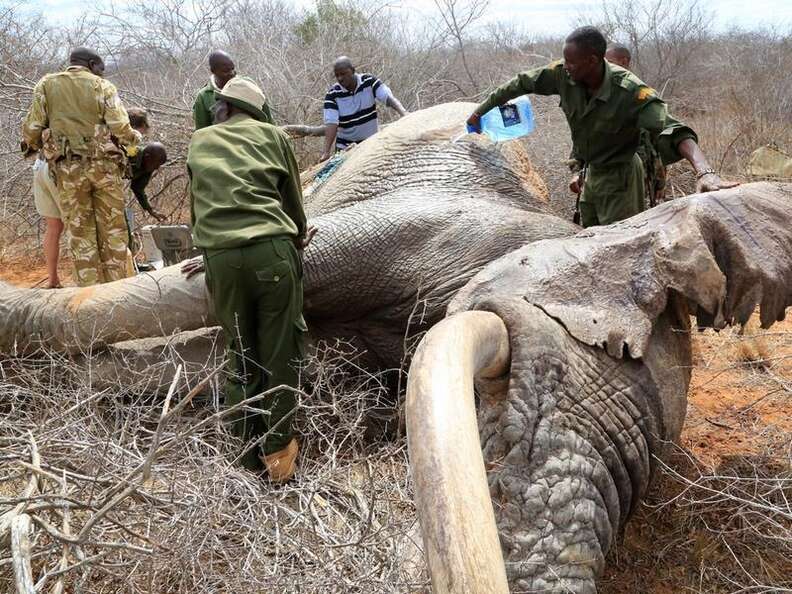 "Every day, we are awed by Kenya's wildlife," DSWT said.
Fortunately, these elephants wound up in exactly the right place. Over several hours, the veterinary team sedated the three bulls and treated their arrow wounds, cleaning out the poisoned areas and filling them with antibiotics and protective clay.
And according to DWST, they've done quite well after their surgeries – and seem to be thankful.
"Mwende and Yetu's dad has remained in the area with his friends and they have regularly been seen since undergoing treatment," the rescuers wrote. "Thankfully all their wounds have healed beautifully so they have all made a full recovery," they added.