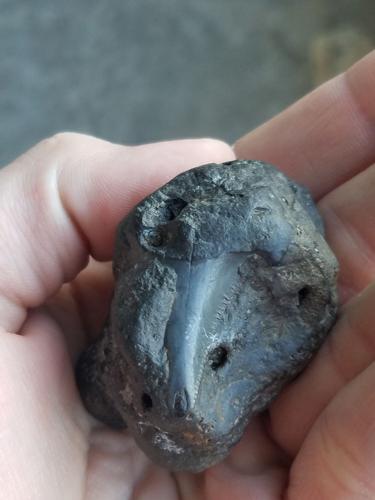 Professional vider Mark Stitzer found an ancient shark's tooth embedded in fossilized alligator dung. Provided by Mark Stitzer
Finding a 30-million-year-old shark tooth on the bottom of the Cooper River isn't so odd. Finding one embedded in fossilized alligator dung is.
Sit tight. This tale gets stranger.
In the dark bottom muck of the river near Hanahan, professional diver Mark Stitzer Jr. shined his light on an oddly colored plop of rock a few months back, and he knew he had some serious, er, stuff on his hands.
Coprolites, as fossilized waste matter is called, are occasionally found with other ancient remains. But when he turned over the hand-sized specimen, he saw a 2-inch tooth in it.
"It's extremely rare. It's up there with the coolest pieces I've found," said Stitzer, 25, of ScubaVenture in Reading, Pennsylvania. He didn't know just how rare it was, but he had an expert to ask.
George Frandsen runs the Poozeum, an "online museum and resource center (that) offers everything you want to know about amazing fossilized poops," according to its website. He holds the Guinness World Record for the largest collection. He has more than 5,000 pieces.
Stitzer's find "is incredibly rare, to my knowledge the first time a shark tooth and coprolite have been found together," Frandsen said.
The South Carolina coast is a prime destination to find prehistoric sharks teeth and other fossils, which date from the time when this region was under the ocean. The items washed into river beds as sea levels retreated. Like fossilized bones, coprolites were covered up quickly and mineralized. They lost the stink and became hard as rock.
Frandsen identified Stitzer's fossil as a crocodilian, an ancestor of the alligator, based on the appearance and minerals.
On the other side from where the tooth was embedded, Franzen found the puncture of another tooth — evidence that the shark took a sample upper and lower biting nip at the dung then spit it out. The embedded tooth came loose and got stuck, he surmised.
Something that strange, you don't just leave lying around. The toothy dung is now on display through May 6 in the Scoop on Poop exhibit at the Florida Museum of Natural History in Gainesville, Florida.
"Awesome," said Capt. Mark Johnson, of Dive the Cooper, who guided Stitzer's dive. "We find all types of sharks' teeth, but that's one of a kind."