Left behind by his family who moved away, a loyal dog stood guard outside their home for a month, expecting their return, but they never came back. However, his presence didn't go unnoticed, as a kind local woman made it her mission to help him.
Denise Guevara, vice president of Everglades Angels Dog Rescue (EADR) in Florida, told The Epoch Times that on July 15, a friend and fellow rescuer Gloria Cabal spotted Salvatore alone in the yard of a homestead property, with no food or water.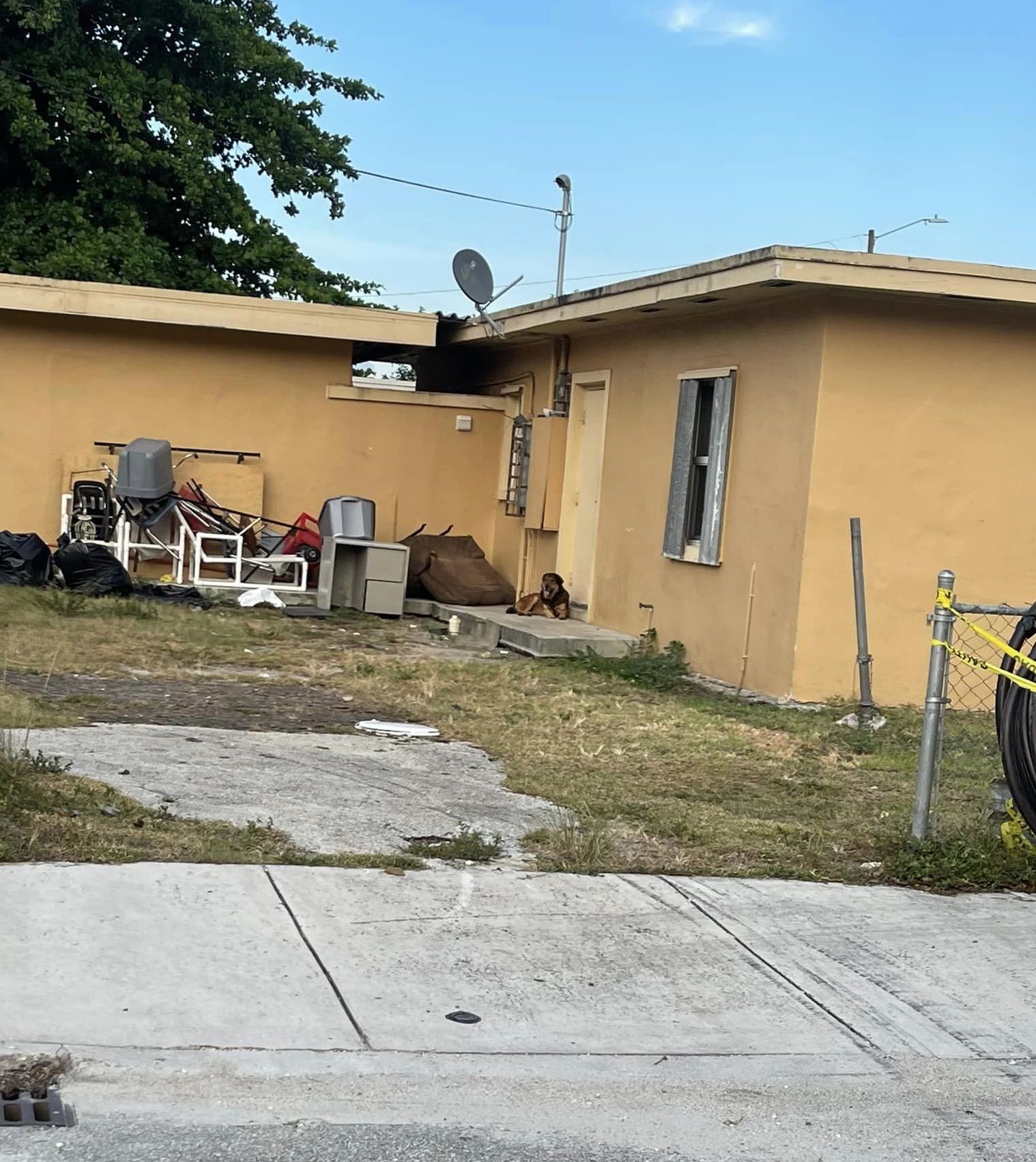 Salvatore waits outside his former family's house, hoping they will return. (Courtesy of Everglades Angels Dog Rescue)
"She discovered the family moved out and left Salvatore in the yard. Why, you ask? We will never know! We ask every day how people can abandon their animals," Guevara said. "Gloria posted and tagged for a rescue to take him in once she was able to get him. EADR committed to taking him."
Little did they know that it would take them a month to welcome him.
Gloria visited Salvatore every chance she had, leaving him food and water, but was unable to touch him for a while, as Salvatore would not touch the food while Gloria was near it. "She could not leash him nor trap him. He would do a low growl, but nothing aggressive," Guevara said.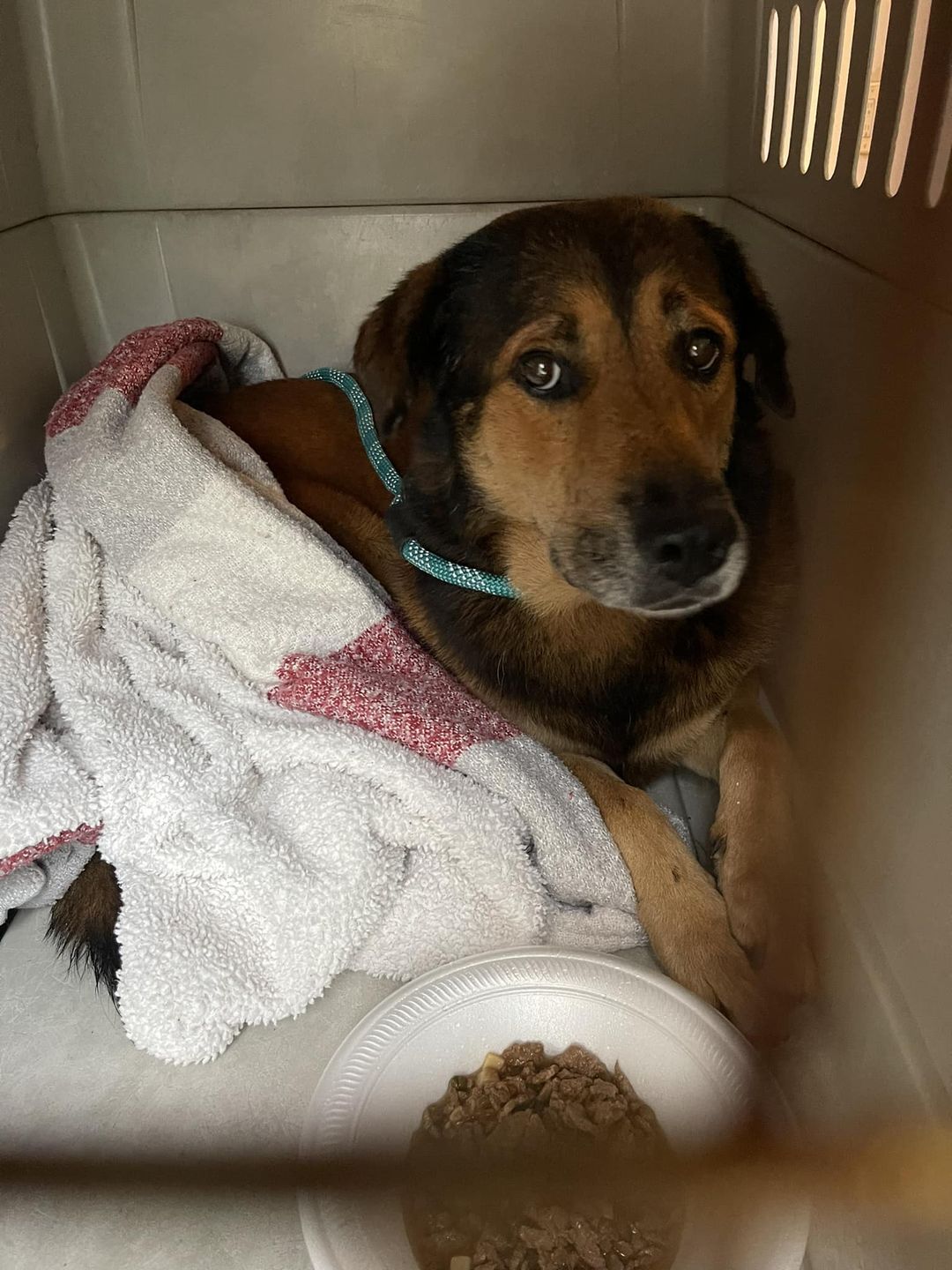 (Courtesy of Everglades Angels Dog Rescue)
In a Facebook post, the charity shared that neighbors knew Salvatore as a "good family pet," especially with his former owners' two children. He is a 5- to 6-year-old black mouth cur cross weighing 66 pounds (approx. 30 kg), and a handsome dog, "aside from the sadness in his eyes."
Each day Gloria did her best to win over Salvatore. She eventually got a tail wag and was able to feed the wary dog with her hand. When realtors visited the property on July 31, they shooed Salvatore away from the yard into the park across the street, which then became his home. Gloria never once gave up on catching him and in August her efforts paid off.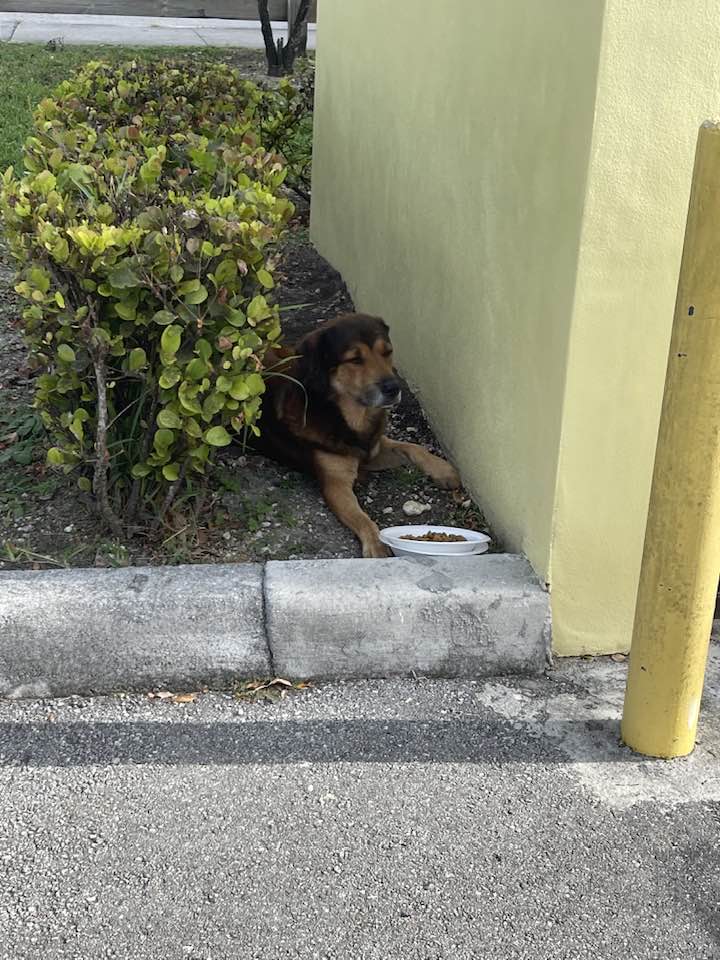 (Courtesy of Everglades Angels Dog Rescue)
Guevara told The Epoch Times: "A storm was due to arrive and Gloria got permission to access the front door of the home. Salvatore walked into his former home, and at that point, almost an entire month later, she was able to put him in a crate and bring him to our vet. On Aug. 19, Salvatore was under our care."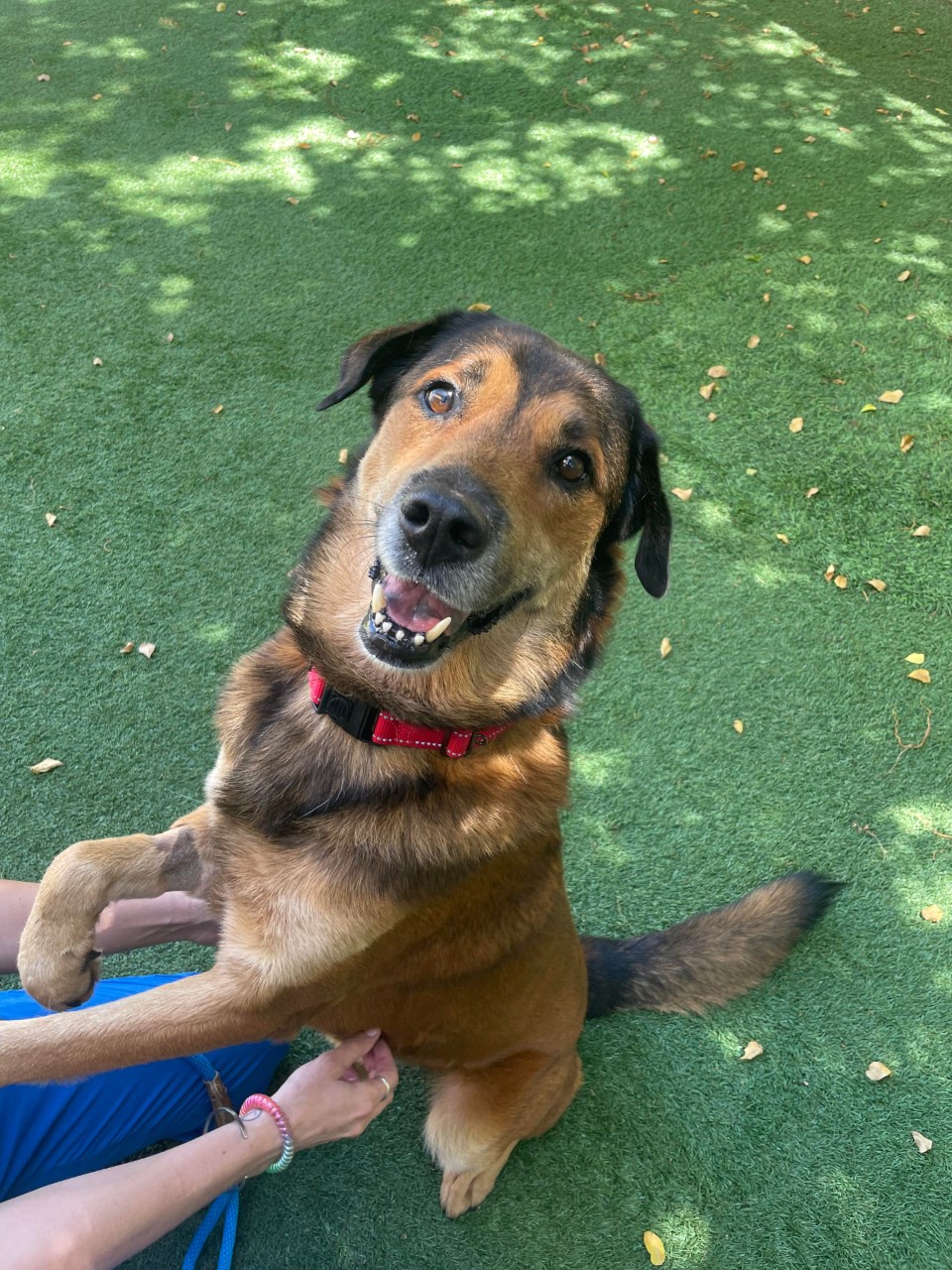 (Courtesy of Everglades Angels Dog Rescue)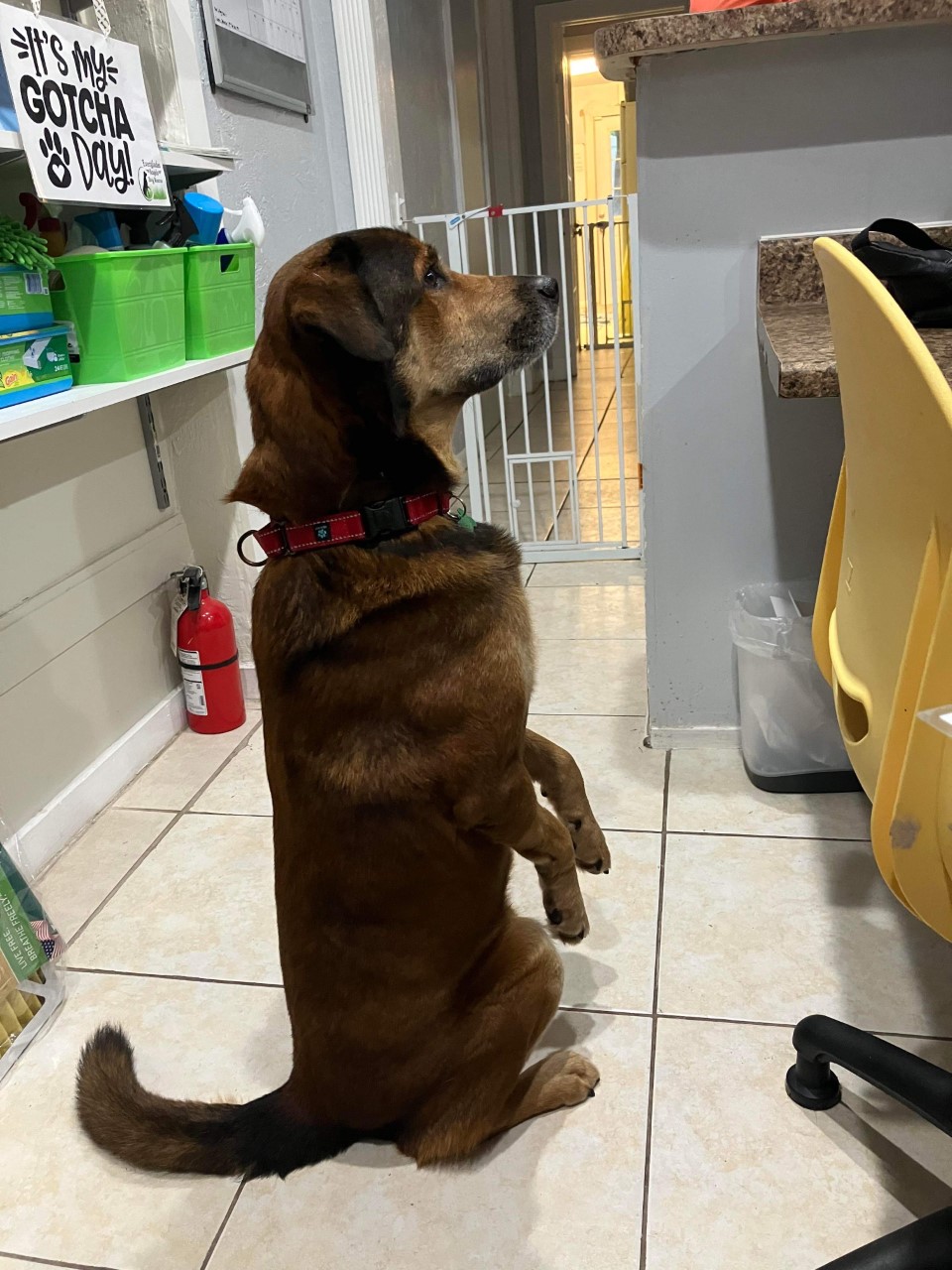 (Courtesy of Everglades Angels Dog Rescue)
The nervous pup warmed up to his rescuers quickly. Staffers at Seiler Animal Hospital in Fort Lauderdale gave him "a few days to decompress" before a full health check. The neglected dog needed vaccinations, some broken teeth removed, neutering, and a microchip, which he had never had.
After transferring to the EADR shelter, he quickly became a volunteer favorite. Then, a friendly family reached out.
"We were contacted by a family member whose family, many years ago, had adopted one of our rescued American Bulldogs," Guevara said. "Sadly, he passed away last year from cancer, and the son was looking for a new member to join the family. It was a match made in Heaven."
(Courtesy of Everglades Angels Dog Rescue)
Salvatore joined his forever family on Oct. 16. EADR shared the happy news on Facebook, posting a photo of a smiling Salvatore and his new owner, Chris.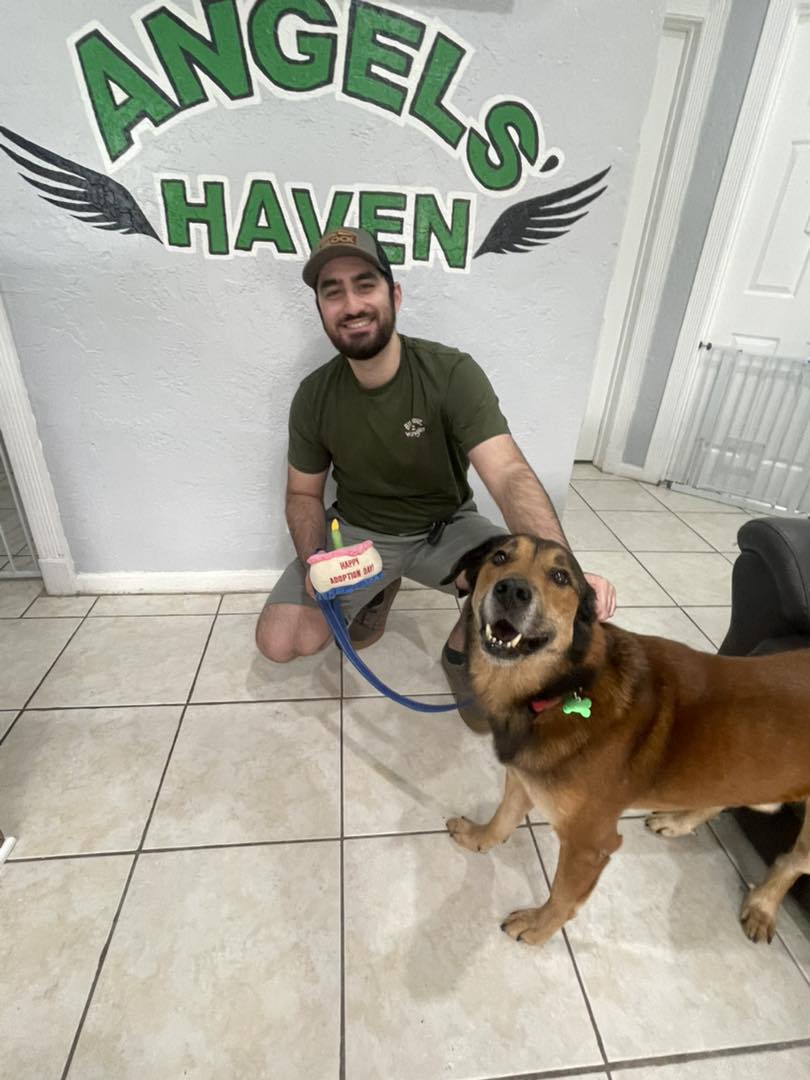 (Courtesy of Everglades Angels Dog Rescue)
EADR was founded on Valentine's Day of 2014 and has been a 100 percent volunteer-based 501C3 charity ever since. They focus on abandoned dogs; do not discriminate on breed or size; and every dog rescued from the Florida Everglades area receives medical care, microchipping, vaccinations, neutering, and blood work.
EADR even has a thrift store, Treasures4Tails, manned by volunteers to help raise funds for medical bills.
The charity provides socializing and behavioral training before each rehabilitated animal is placed in a fitting forever home. "We do an interview with the family once an application is received, home and background checks, as well as meetings with other family pets to make sure they are compatible," Guevara said. "We feel that the adoption of a healthy, well-adjusted dog is vital to our mission to help prevent the cycle of future abandonment."
EADR has saved almost 800 dogs to date, and gave Salvatore his wholly happy ending.